Morgan Renfro ~ Fabulous Person
Morgan Renfro ~ Fabulous Person
If you are like us, you want to know who your provider really is.  Know what makes them tick.  Know where they are from and a little about what has shaped them as people.
Fabulous AZ recently did an amazing interview with Morgan Renfro ~ Fabulous Person!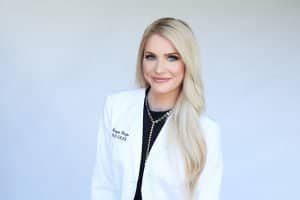 Morgan is amazing.  What she and Marissa have gone through in starting Lumen + Bevel Aesthetics during the pandemic is nothing short of unbelievable.  But this fabulous article written by fabulous arizona about this fabulous person, is about much more than that.
Nothing drives Morgan Renfro like continuing education and training.  She is one of the most kind, empathetic and caring people you will ever meet!  Not only does she love the industry, she is beyond obsessed with it.  The science, the aesthetics, the patient outcomes, all of it.
Morgan and Marissa make an unstoppable team and we loved getting to know them!
Please join us in congratulating Morgan on her accomplishments and this feature!  A special thing for a special person!